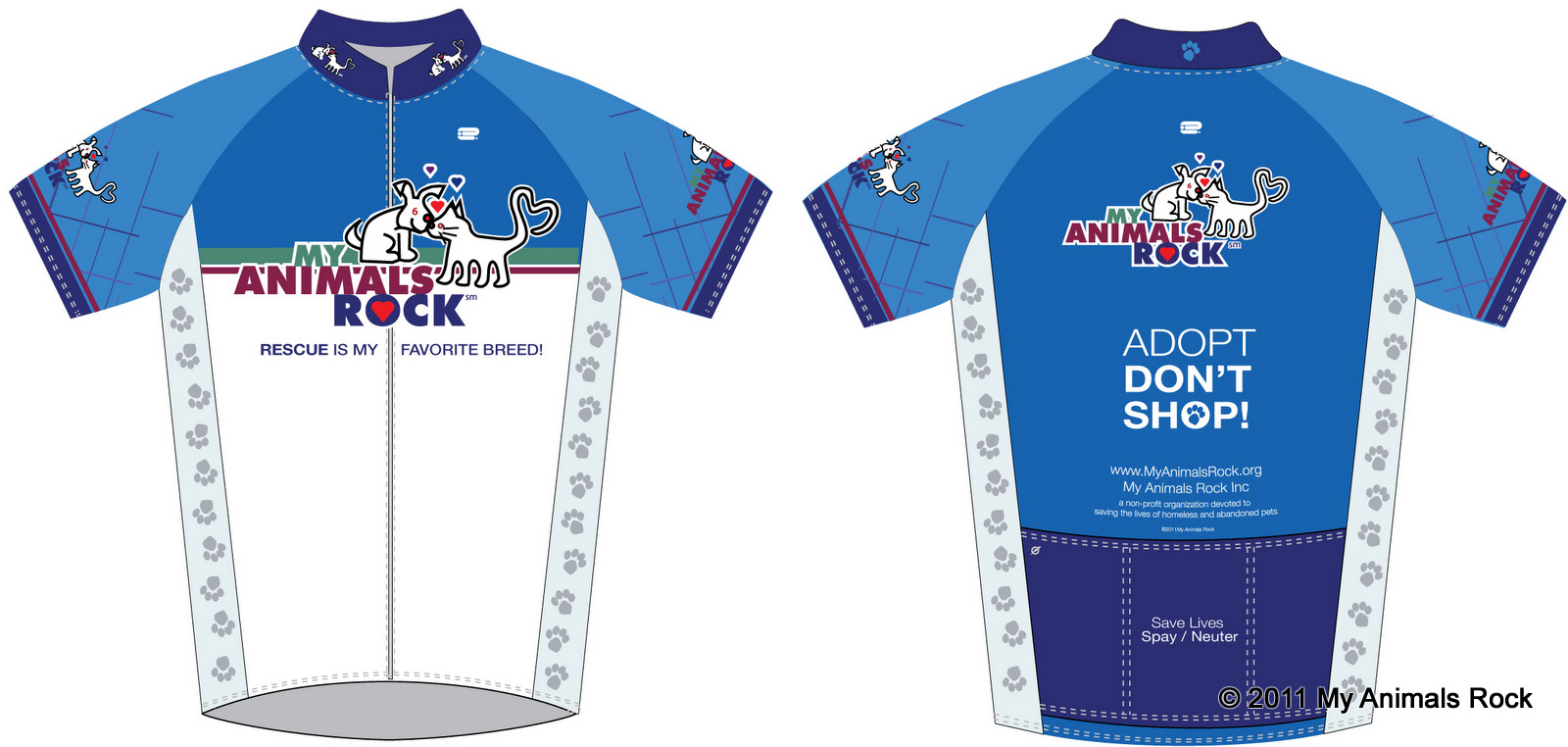 Custom Bike Jerseys. All profits to help My Animals Rock rescue homeless,  abandoned and abused animals.
Available in small, medium and large, women and men sizes.
$100 per jersey
The jerseys manufacturing cost to us is $50 and we are asking for an additional $50 donation .
The Madonna And Puppy Mill
giclee art print by artist and advocate Susan Saladino

printed on fine art archival paper matted 11″ x 14 "( image
size 8 x 10)
price $45.00

    includes mat
and shipping (larger sizes available price on
request).
subject: order art print

each print is delivered with a copy of the artists
statement below

The Madonna and Puppy Mill statement:    
"The
curtain opens to reveal sacred figures as they are entering into paradise. There
seems to be an air of calm and understanding; a perfect harmony." Those are the
words used to describe Rafael's Sistine Madonna painted in 1513, which I have
reconstructed.
The
sacred figures in my painting, The Madonna And Puppy Mill, express anything but
paradise, the implication is painfully clear. The Madonna looks directly at the
viewer, not with understanding but with sadness and confusion. She lovingly
offers up a litter of dying puppies as a plea for help. The dogs depicted in
this Heaven are there because of malevolence.
They are
the dogs I have personally seen in shelters and pounds, in photographs from the
streets of Taiwan, Korean dog meat markets, imprisoned in puppy mills, medical
laboratories, race tracks, set on fire, dragged from cars, abandoned, neglected,
persecuted, and executed. They are the dogs I have painted.
My own
cherished Pit Bull family members were 'throw aways'. Had they not crossed my
path and instead made their way into a shelter, they most likely would have
become a sad statistic along with a multitude of dogs senselessly murdered each
day. I ache with sorrow when I consider what their fate might have been, and for
all those not saved. The brush has become my sword. 
I
dedicate this painting to all animals that suffer at human hands because of
indifference, cruelty, and greed. My love for animals and an abiding hatred for
their persecution compel me to use my art as a vehicle for change.

 Susan
Saladino